If you love dogs, like we do, and you are in love and in the process of planning a wedding, you might be wondering how to incorporate your pet into your big day. Planning a dog friendly wedding isn't always that straightforward, but for those dog-owners that have their little furry friend as a central part of the family it can be worth the extra planning and thought, as it makes for an extra special presence and moment. Dogs bring smiles to our faces and a wedding is one of the happiest days you'll ever have. No imagine how good it will feel to combine the two?! There are many different aspects to planning a wedding, from finding a venue, working out your guest list and finding the perfect wedding dress. Ensuring your dog can be part of the day will add another layer of happiness to the day.
There are many reasons why you might want to have your beloved dog by your side during your wedding day. For many people, their pets are an extension of the family itself and deserve to be treated as such, a central part of the day. In other cases, there might be a necessity, such as requiring a guide dog to walk a bride down the aisle should the wedding party have vision impairment. Whatever your reasons, there are a few ways in which you can go about planning for your dogs to be involved in your wedding day.
It isn't as simple though as just bringing your dogs along, there are a few different considerations to make before going ahead and committing to a dog friendly wedding,. The first is that it is very important that you choose a wedding venue that is dog friendly and is happy for dogs to be present. The venue has to be big enough to accommodate the number of human and dog guests that you plan to attend. There has to be space for the dogs to be walked throughout the day and for them to rest and stay away from the noise when the band or DJ starts to play during the reception.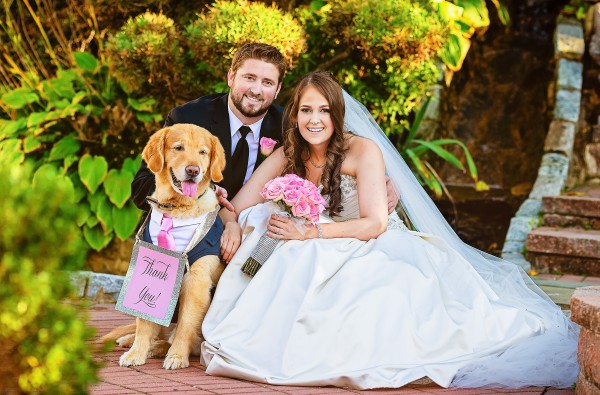 Your choice of wedding dress might also change because of the presence of dogs. For some brides, there is the fear that dogs could stain the dress, make it easier to move around in the dress and just cause general chaos on the day, leading to choices of shorter wedding dresses. It is something to discuss for sure with your bridal boutique of choice.
It is also very important that you let your guests know, your suppliers and caterers and anything else to do with the wedding planning, that you plan to have your dog present at the wedding, and indeed, if they are welcome to bring their dog. This is important to ensure that you have all bases covered and that anyone who has a dog allergy or fear of dogs has the relevant time and way to let you know well in advance.
Once you have sorted all of this you can begin to think when and where you want your dog to be involved. It is enough for some people to just have their dogs present, whilst other people want the dogs to be part of the ceremony itself as ring bearers, a flower dog or other role.
 Planning the perfect wedding is one of the most exciting and cherished moments of your life. There are many different aspects to planning a wedding and if you would like to bring your dog along with you to be a central part of the big day, there are some interesting ways to make that happen without it becoming too kitsch or clichéd. Once you have found the perfect wedding venue you can then move on to finding a bridal gown that suits your needs and matches the venue, the aesthetic of the overall wedding and the fact that you'll be having a dog friendly wedding. There are so many different styles of wedding, from the recent royal wedding of Princess Beatrice to small family affairs in a casual setting. You should always go with your gut, as it is your big day after all and no one else's.